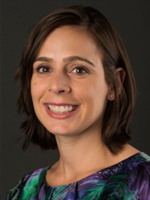 Amanda Phraner
Amanda Phraner is a Vice President of digital health at Edelman where she brings nearly a decade of public affairs and online engagement experience to help clients leverage digital technologies and effectively communicate with their target audiences. At Edelman, Amanda develops digital communications plans to educate consumers on important health and safety issues, leads content strategy to engage audiences to disseminate important resources among their networks, and manages the creation of interactive content that helps to drive action.
Prior to joining Edelman, Amanda oversaw community engagement and issue advocacy campaigns to help build a base of support for clients including the American Medical Associations' Patient Action Network.
She studied marketing and political science as an undergraduate at Lindenwood University. In addition, Amanda completed her M.A. in Political Management from The George Washington University.


Cecilia Arradaza
Cecilia Arradaza is FasterCures' managing director of communications and policy. She manages the organization's communications programs, stakeholder outreach strategies, and policy priorities. Arradaza brings to FasterCures more than 15 years of experience in strategic communications on key issues that impact medical research and the life sciences industry. She joined FasterCures from Chandler Chicco Agency (CCA), a health communications firm, where she managed public affairs programs for clients including Johnson & Johnson, the Robert Wood Johnson Foundation, and VHA Inc. Before joining CCA, Arradaza implemented issues advocacy initiatives for pharmaceutical and foundation clients of Hyde Park Communications, managed media relations and public education efforts for the American Psychiatric Association, and was part of the health and international public affairs practices at Powell Tate. Arradaza began her health communications career at the National Osteoporosis Foundation and the National Women's Health Network. She is on the founding board of Women Against Alzheimer's. She received her bachelor's degree from George Washington University at Mount Vernon College.


Paul Bove
Paul is the Social Media Lead for the U.S. Food and Drug Administration, managing FDA's social media program. Before coming to FDA, he was a government contractor with RMCI, serving as the Social Media Manager for the CIO Web Team at the U.S. Office of Personnel Management. Prior to this position, he was the Social Media Strategist and Senior Web Developer within the Air Force Public Affairs Agency, helping build one of the Department of Defense's first social media and emerging technology teams. With a strong focus and specialization on internal policy and education, Paul brings over a decade of communications experience from the government and non-profit world. Additionally, he is an Adjunct Professor of Public Communication at American University, teaching Social Media Strategy and Tactics.
Paul has experience with print media, crisis communications, Web development, digital communications, and technical writing. Paul completed his Master's in Public Relations and Corporate Communications from Georgetown University, with a focus on digital media and strategy. He also co-authored "New Media and the Air Force," a primer on new and social media, and worked on the companion video of the same name.
Cody Damon
Cody Damon is responsible for Digital Strategy, Data, Google Ad Grants, and Social Advertising at Media Cause. Media Cause is a digital marketing agency for nonprofits that builds online communities, awareness, and support for organizations that are changing the world. Cody uses digital strategies to build, engage and leverage communities to help nonprofits.
He is passionate about the role digital technologies play in helping non-profits compete for attention. He is proficient across the whole gambit of social platforms and digital advertising networks, but his true strength lies in the coordination of all of these channels to form an effective communication strategy for his clients. Cody's ideas have spawned actionable change for partners such a (RED), Natural Resources Defense Council (NRDC), and the Cornell Lab of Ornithology.


Michael Ricci
Now in his tenth year on Capitol Hill, Michael Ricci serves as Deputy Communications Director for the Office of House Speaker John Boehner, where he oversees the creation of all written and digital content.  That includes speeches, letters, press releases, blog posts, talking points, tweets, Facebook posts, graphics, and videos.  Prior to joining Boehner's office, Michael served as Deputy Communications Director for the House Republican Conference and Speechwriter for the National Republican Congressional Committee.  Michael grew up in East Meadow, NY and attended Columbia University.  You can follow him on Twitter at riccimike or Instagram at ricciruns.


Marvin Ammori
Marvin Ammori was named one of the 100 Most Creative People in Business in 2012 by Fast Company Magazine (#32), one of the top five tech lawyers in 2012 by the World Technology Network, and is a proud recipient of the Nyan Cat Medal of Internet Awesomeness.
He is a thought leader in Internet law, best known for his work opposing SOPA and defending network neutrality. Time Magazine calls him "a prominent First Amendment lawyer and Internet policy expert" and the San Jose Mercury News calls him "a well-known advocate for Internet freedom." He has published articles in the New York Times, the Atlantic, Wired, Slate, and Forbes, and has appeared on CNN, MSNBC, ABC, NPR, and other TV and radio outlets. He is also an international speaker, keynoting events in Europe, Asia, and both US coasts–including several government bodies, TEDx University of Michigan, the Consumer Electronics Show, SXSW, and events at organizations such as Dropbox and Google. Read More...
He is currently a 2014 Future Tense Fellow at the New America Foundation, one of the nation's most prominent think tanks. He also serves on the boards of the nonprofit advocacy groups Fight for the Future and Demand Progress and also on the Board of Engine Advocacy, a national organization that gives startups a voice in DC . In 
private practice
, in specific matters, he has represented several companies and coalitions including Google, Dropbox, eBay, Automattic, Tumblr, Twitter, and others.
For the past decade, as a lawyer, he has been involved in many of the most important and prominent public policy issues concerning the Internet's future. While serving as the general counsel for the advocacy group Free Press in 2008, he authored the seminal network-neutrality complaint against Comcast for interfering with the use of BitTorrent software and led the case from its inception to conclusion. In 2011 and 2012, he played an instrumental role in opposing proposed copyright legislation known as SOPA and PIPA.
He recently authored the  book On Internet Freedom. His law review articles exploring First Amendment theory in the digital age are assigned in some of the nation's top law schools, including Harvard and Georgetown. He has published in the Harvard Law Review, Wisconsin Law Review, and Missouri Law Review.
He is a graduate of the University of Michigan and Harvard Law School. He also serves as an Affiliate Scholar of the Stanford Law School Center for Internet & Society and is an Affiliate of the Yale Law School Information Society Project. He is also a Term Member of the Council on Foreign Relations and a Fellow of the Americas Business Council Foundation.
Jan Fox
If you'd lived in the DC Metro area, you'd recognize JAN FOX right away.  She was a 4-Time Emmy Winning journalist at CBS WUSA 9 for almost 20 years! Before that… a Talk Show Host on ABC in Boston and the 6 & 11 PM Anchor on NBC in Portland, ME.
For life after TV, Jan put up the shingle– Fox Talks – teaching you, 100's of audiences, and her coaching clients to "Sharpen Your SPEAKability".  Her book, "GET YOURSELF on TV", gives you INsider secrets to get INside the studio. She's on the board of the National Speakers Association DC chapter. Jan has a Masters of Education in Humanistic Studies, but the way the world looks at anything has changed since then. Little known fact – She sent something LIVE in a box that snagged the Channel 9 job. You'll have to ask her!